Insight card: 4 of Rainbows
As the weekend draws to a close, I feel like I have set something in motion which will bring me a lot of joy and fulfillment, although I do know that there is still so much to be work to be done. I drew one card for myself, asking "What do I need to keep in mind as I start out on this new journey?"
The 4 of Rainbows came out (equivalent to the 4 of Pentacles in the traditional suits), reminding me that I need to keep an open heart and not lose sight of my personal relationships (including my relationship with myself!) in a quest to make this new business profitable. But also to remind me that I will need to put in the work necessary before it becomes profitable. Balance needs to be the name of the game, which, in my excitement, has gone by the wayside in these past three days.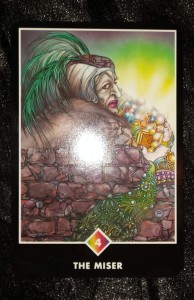 It also makes me think that I need to really, REALLY, be serious about treating this as a business, and not let people take advantage of my generosity. Remember that oftentimes we need to spend money in order to make money, and starting a business always constitutes a risk.
I may have high-flying dreams, but I need to keep my day job still! It's important to be present, wherever I may be.
With that, I bid you all a good night! I think my cats have missed my attention this weekend, and some snuggles are in order… let's strike that balance!
Namaste, and have a wonderful week!
Note: I use the Osho Zen Tarot Deck for my readings, and make no claim of ownership of copyright. Osho Zen Tarot is copyrighted by Osho International Foundation