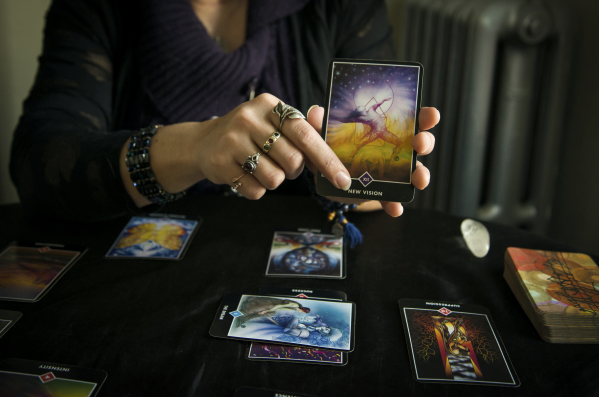 I'm so glad you want to work with me!
My calling is to help you see Truth even in the toughest situations, so that you may have enough clarity to find your way. I'll find the Beauty, too, though I can't promise it will always be pretty.
Please look over my Policies before you make your purchase, to be sure you know what to expect!
Email Readin

g
s
For a better email reading, please state your questions as concisely and clearly as possible, and aim to ask open-ended questions, rather than "yes or no" type questions. If you're just wanting some general guidance from the universe, let us know and we'll be happy to oblige!
Email Reading –

$20

 
Just want one quick little question answered? Need to ask a follow-up question to your previous reading? This is the choice for you. I'll draw a few cards, depending on your question. Your reading will be delivered as an email message of 300-600 words in length, with the picture(s) of the cards drawn to get your answer as an attachment. Depending on availability, delivery will be within 24 hours-7 days.
---
Live Readings
My favorite way to connect with you! Personal and immediate, I can get a feel for your vibe right away and we can get a LOT of insights in a short time! We'll connect via phone or video conference, and pull as many cards as time allows. Tarot, Oracle Cards, Lenormand, pendulum, charms, they're all on the table. Well, they'll be in a basket next to the table, but you know what I mean 😉
PLEASE remember to email me after your purchase to schedule your reading. Time of scheduling depends on availability. Scroll down for Courtesy Rates.
15 minutes:

$30
30 minutes:

$55
60 minutes:

$90 

       
90 minutes:

$130 
---
Courtesy Rates for Live Readings
In order to make my readings as accessible as possible to all those who may need them, I have implemented a discounted rate for: students; teachers and other educators; single parents; service industry workers; nurses and other non-MD healthcare workers; full-time caretakers of the elderly, disabled, or children; social workers/counselors; self-employed/working artists/musicians and spiritual workers; those on limited income due to disability, retirement or unemployment; military personnel (active or veterans/retired), and the recently bereaved. I offer this rate on the honor system. If you believe you qualify for my courtesy rate, please state your reason when you purchase. And don't forget to email me to schedule our meeting time and platform!
15 minutes: Courtesy rate –

$20

 
30 minutes: Courtesy rate –

$40

 
60 minutes: Courtesy rate –

$60

 
90 minutes: Courtesy rate –

$90

 
Tarot At Your Event!
Would you like to add a fun and enlightening experience to your next event? Book me to do tarot readings for you and your guests! I love reading at all kinds of parties: birthdays, bachelorette parties, holiday parties, corporate events, yoga retreats, weddings, even a Thirsty Thursday! Rates vary depending on travel time (from Mayagüez, Puerto Rico) and other variables. If it's too far for me to get to your event physically, we can set up a video conference and make it a virtual party. Shoot me an email to tarotjen (AT) gmail (DOT) com with your event details and we'll go from there!
I look forward to connecting with you! Namasté!